GD Star Rating
loading...
With the help of CSS3 Transitions it is possible to create beautiful custom CSS3 select boxes automatically. The script you can download here will automatically convert all select boxes which are inside a div with the class lingulo-select into custom select boxes.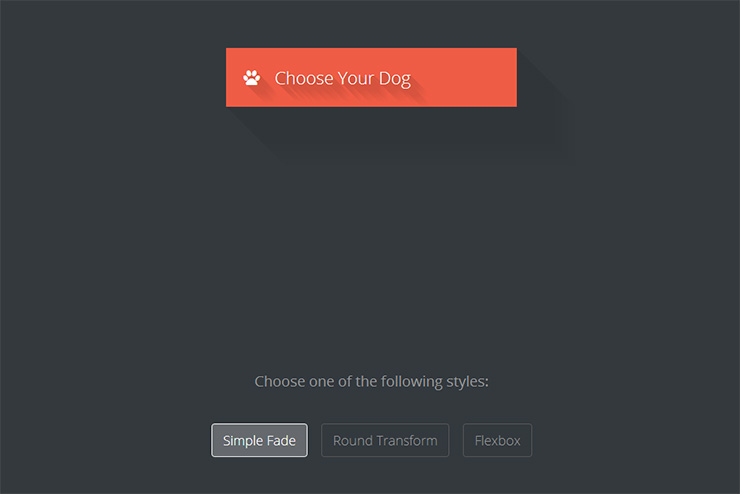 Preview
Custom Select Boxes
Download
Select Boxes as Zip File9kB266Times downloaded
In order to convert your select boxes into Lingulo Custom Select Boxes you need to include the minified script as well as the style.css file. Then simply wrap every select box you would like to be converted with a div with the classes lg-select and either style1, style2 or style3. Have a look at the preview to decide which style you would like to use. If you don´t use a particular styling at all it is best to remove it from the CSS file in order to decrease file size. It is also necessary to add a span element with the class lg-placeholder and a text for the placeholder just above your select element.
The Lingulo Custom Select Box script will look for select elements in your HTML code with the following structure.
HTML Code
<div class="lg-select style1">
<span class="lg-placeholder">Choose Your Dog</span>
<select><option value="black-labrador">Black Labrador</option>
<option value="old-english-sheepdog">Old English Sheepdog</option>
<option value="pomeranian">Pomeranian</option>
<option value="black-pug">Black Pug</option>
<option value="white-poodle">White Poodle</option>
<option value="saint-bernard">Saint Bernard</option>
<option value="rhodesian-ridgeback">Rhodesian Ridgeback</option></select></div>