Video Cloud Players to Deliver Video in Flash or HTML5 – An Insight
The growth rate of mobile web usage is exceeding in leaps and bounds. And this rapid increase in the popularity of mobile web, is giving video publishers a hard time in reaching out to a wider audience base, by utilizing the Flash Player alone. Therefore, to reach the desired audience it becomes imperative for video publishers to serve their audience with HTML5 videos as well that can run on both desktop and mobile devices.
Flash was ubiquitous and has been the standard player for delivering videos, for more than a decade. Though, HTML5 is getting developed expeditiously, but when it comes to keeping in line with the Flash technology or the integration environment, it hasn't yet attained the maturity like the Flash videos. Fortunately, Video Cloud smart players will most likely help you meet the challenges imposed by HTML5.
Wondering how?
As soon as you'll enable HTML5 player delivery, the Video smart players will play Flash videos for your desktop, and will intimate the user to install Flash if it isn't installed on the system. However, in case of mobile devices the Video Cloud payers will play Flash videos for the devices that supports them (devices that have installed Flash player). But, if the mobile device doesn't support Flash or hasn't installed the Flash player yet, there's nothing to fret! That's because Video Cloud player will play the cloud videos in an HTML5 player. But before exploring further about what Video Cloud smart player is aimed at offering, let's first understand what exactly a smart player is.
Introducing Smart Player
A smart player, also referred to as a Video Cloud player, can be used as Flash player or as an HTML5 player. It helps to detect whether the viewer's device can run Flash videos or HTML5 videos, and accordingly deliver the videos in the suitable format. So, if the device supports Flash, then the smart player gets loaded in Flash mode. And in case the device detects a device providing support for HTML5, the player will load in HTML5 mode.
Note that only Apple iOS and Android OS devices supports HTML5 mode.
What benefit you will get by using Video Cloud smart player for delivering video?
The biggest advantages of using a single Video Cloud smart player is that since it can deliver videos for both Flash as well as HTML5, you no longer have to create and manage dissever players tailored to adjust a particular viewer environment. Besides this, your present video players will load automatically in Flash or HTML5 player mode. This will spare your valuable time in embedding additional Javascript.
Simply put, with Video cloud smart players you will get access to HTML5 players that comes equipped with all the Flash player features. Since, Flash has been the standard Internet player that is used to play videos, and HTML5 is still maturing, you might feel the need to understand how HTML5 can be configured.
How Video Cloud players use HTML5 Video delivery?
Let's have a glance at how you can configure the process of how Video Cloud players make use of HTML5 video delivery, on the Video Cloud player settings page. Start with setting-up HTML5 player delivery options for your account, by following the below steps:
Step 1 – Sign In to the Video Cloud category.
Step 2 – When the Video Cloud Studio home page window gets opened, go to the top just below the navigation bar in the right you will find Account Settings. Click on the Account settings. But remember that you require Administrator privileges to access the Account settings section of the Visual Cloud Studio.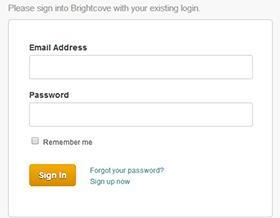 Step 3 – Once you access the Account Settings page, click on the Publishing Settings. Next, under the Publishing Settings are you will see HTML5 Player Delivery, just click on the Edit button.
Step 4 – As shown in the screen shot below, choose the HTML5 player delivery options for your account as per your needs. In case you want the Video Cloud smart players to utilize the HTML5 player whenever required, select Enable. But if you don't want to use the HTML5 player ever, leave the Enable option unchecked.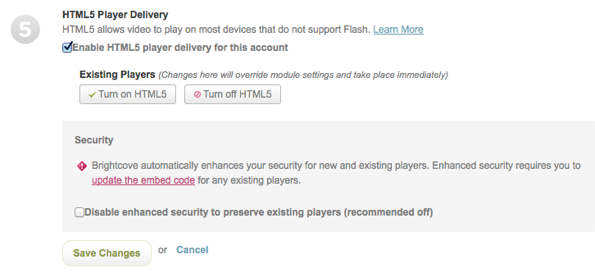 Step 5 – Just below the Existing Players, you'll find two options as given in the screenshot above, choose Turn on HTML5 in order to make all your current players to use HTML5 (when necessary). Select Turn off HTML5 to avert your present players from using HTML5 and click on "Save Changes" button.
Summing Up!
If you're a video publisher and can't connect to enough audience, since viewer's device contains fragmented environment and you require another player apart from Flash, you can use HTML5 player. But since the HTML5 player is yet to develop and miss out a lot of features of the Flash player, you can opt for Video Cloud smart players that provides the capability to run your videos in the required format that your device supports.
Author Biography
Jack Calder is an avid blogger cum certified software developer. Currently, he is working with Markupcloud – PSD to HTML5 conversions company. He's always been keen on sharing helpful insights on markup conversions which have enhanced a website's performance.