As the first quarter of 2015 is ending, we've come to see many predictions being made for the web design industry. Without wasting any time, let's discuss about some of the major web trends that are expected to evolve and will be ruling the web industry in 2015:
1. Storytelling Will Become More Animated
You may have stumbled upon several websites that tell a story. Though storytelling isn't new and has been around us for ages, but it's only recently that it made its way into the design industry, by making use of animations and other interactive elements.
And this year, you can expect to see story designs becoming even better by the use of animation sequences that starts when a user scroll down the page. In essence, more and more websites telling stories will be using 3D graphics and HD quality videos, in a bid to increase the level of visual appeal and user's interactivity.
Especially, you'll get to see websites featuring fully-animated designs with parallax effects caused by the movement of the mouse. The beauty of such a design is that it utilizes only a few design elements that make the page more interactive and attention-grabbing either by using the fade-in effect or making the elements slide into the page.
For example, Every Last drop website uses an interactive storytelling approach to spread awareness among people regarding water about saving water, as they scroll down the website page.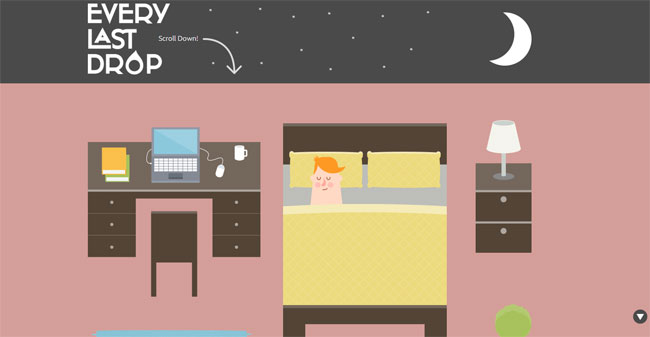 2. Navigation Will Be Streamlined
One common thing that almost all the designers love to experiment with is the website navigation. In fact, paying with navigation has been a favorite activity for web designers' for many years. However, experimenting with navigation proliferated when an entire website was being designed using Flash only. But, as Flash became retarded, navigation menus appeared to be quieter and simple, devoid of animation and interactivity.
But the advent of HTML5/CSS3 helped designers' create edgier navigation. The best part is that this web technology helps in creating solutions that can work on any device using a modern browser. HTML 5 contains several new elements (or tags), among which the